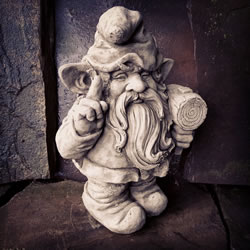 What wakes me up at five every morning? Is it light? Unlikely. Is it a noise? Maybe, but then it is very faint. Is it a dream? Possible.
But this morning I had another thought. Are "they" trying to tell me something? Are "they" telling me to go away? Have I disturbed them? Did they follow me? There are sure signs of disruption in the garden. I know, this is not unusual at this time of the year, squirrels bury things, flower pots get vandalised, foxes fool around, foul up the well swept terrace etc.
I sense a malificent presence. Are "they" observing me? Are "they" messing with my mind? Is old age, senility creeping?
Are they evil gnomes in the rampage around this place?
Image source: https://www.garden4less.co.uk/product/Gnome-with-Hammer-Stone